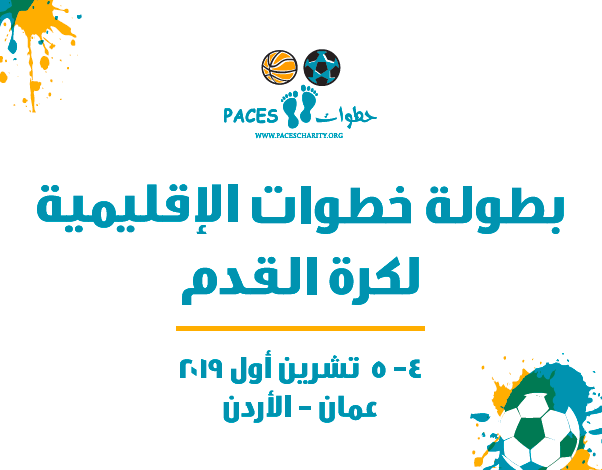 Media Coverage
PACES Charity Hosts Its First Regional Football Tournament
Amman – For the first time, PACES Charity organizes a football tournament in Amman, Jordan from October 4 to 5, 2019 bringing together 116 children from Palestine, Jordan and Lebanon, in addition to their coaches and PACES staff.
The Regional Tournament is one of the PACES's program activities which involves football matches between participating teams from the three countries in addition to other fun and interactive games and activities, based on the foundations of team spirit, teamwork and honorable competition. These activities give the children the opportunity to apply what they have learned throughout the years in the program, meet new friends, experience new cultures and enhance their technical and behavioral skills. This event also gives the coaches and team members to gain experience and exchange knowledge.
PACES Sports Program Regional Director, Mohammed Sabbah commented, "Through these activities, our organization seeks to shed light on the developmental aspect of the program as well as showcase the children's skills among PACES friends, partners and supporters."
In preparation for the event, children participating in the tournament joined PACES' Specialized Training Program which aims to enhance their physical and social wellbeing, in addition to improving their practical skills. Through several meetups, the children also get the chance to meet their peers and strengthen their relationships as a team prior to the tournament.
Due to its achievements in sports in general and youth football in particular, in addition to the availability of safe spaces for children, Jordan was selected to host PACES's first tournament. The tournament is scheduled to take place at the Amman Football Club, following the establishment of a strategic partnership between PACES and the football club.
"We know how beneficial this tournament will be to both our children and team. We are looking forward to achieving our desired goals and creating a success story," added Sabbah.
It is worth mentioning that PACES is a developmental organization providing healthy, structured after- school sports programs for Palestinian girls and boys ages 7-16 years Living in refugee camps and most marginalized and vulnerable areas in Palestine, Jordan, and Lebanon. Since its establishment, PACES has reached out and served over 30,000 children, 2,000 young female and male coaches and assistant coaches, and over 100 local sports clubs and other community-based organizations. All programs promote gender equality and have successfully reached and maintained a 50% female participation rate.