COVID-19 Initiative
In February 2020, PACES delayed the start of its sports program scheduled to launch in March due to the COVID-19 outbreak. Nonetheless, to continue supporting PACES program beneficiaries and vulnerable communities in Palestine, Jordan, and Lebanon, PACES launched the 'COVID-19 Initiative'; offering emergency assistance to communities impacted by the pandemic. The initiative kicked off with an offline campaign with the support of long-term individual and corporate donors, and resulted in around $1,000,000 in donations to date. To date, 14 partnerships were established and concluded, benefiting over 90,000 individuals.
The spread of the disease resulted in an economic and social crisis, leaving thousands of Palestinian refugee families and marginalized communities with very limited access to food and health-services. They are deprived of basic necessities, and are at high risk for severe illness; their physical health, safety, and wellbeing are greatly compromised.
The Initiative focuses on providing food parcels, hygiene kits, healthy meals, medical equipment, and PPE kits, giving priority to those suffering from unemployment, poor housing conditions, and shortage of proper infrastructure. All work is conducted in partnership with l
ocal and international organizations to facilitate the outreach and support.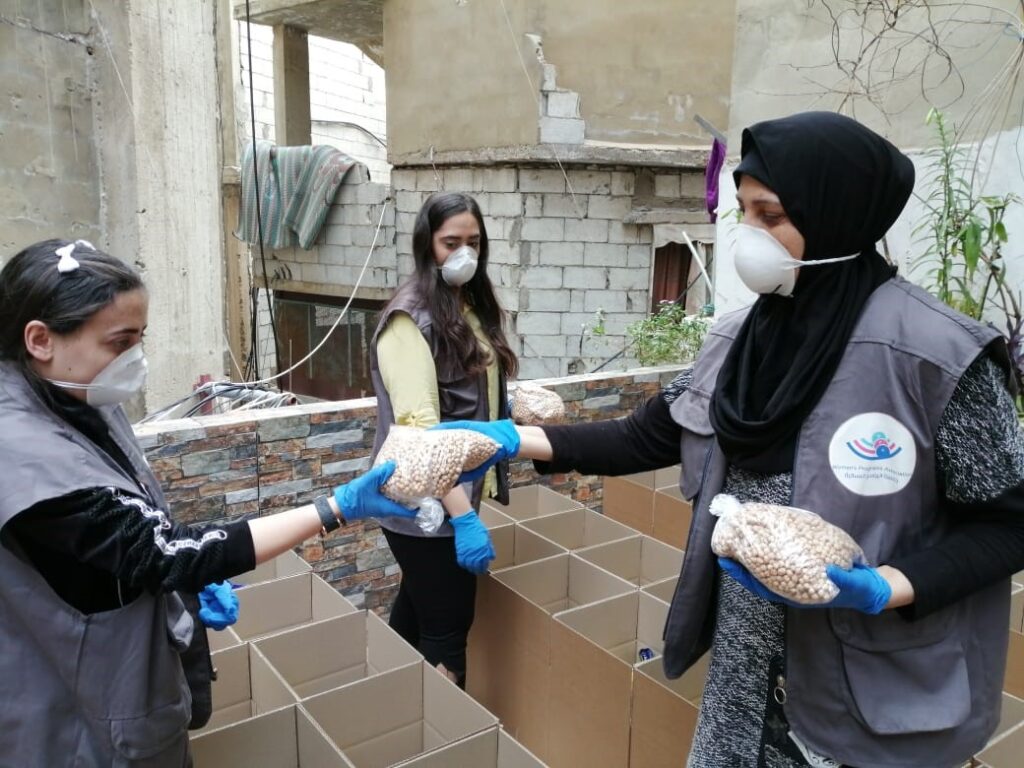 FOOD PARCELS & PPE KITS
Under the 'COVID-19 Initiative', PACES is providing families with food parcels and hygiene kits, and health professionals with PPE kits and medical equipment. To facilitate the disbursement of packages and kits to target beneficiaries, PACES established partnerships with a few local and international organizations, including;
Palestine: Medical Aid for Palestine, Inash AlUsra Association, Jeel Al Amal for Orphans, Al Rahmeh Center for Seniors, Community Based Rehabilitation Society Central, The Salvatorian Sisters Nursing Home, SOS Children's Villages, and Palestinian Red Crescent Society.
Jordan: Naua, SOS Children's Villages, Tobacco Free Jordan, and Tkiyyet Um Ali.
Lebanon: Women's Program Association, Medical Aid for Palestine, Al Baraem Association, FoodBlessed, Al Najdeh Association, and The Human Development Center.
More projects and partnerships will be announced soon!
PACES KITCHEN
Inspired by the work of The Migrant Kitchen in New York, and in collaboration with Chefs from around the world, PACES donated 250 iftar meals daily to nurses, doctors, patients and their companions at the Augusta Victoria Hospital in Jerusalem during Ramadan which is known for providing services for the local Palestinian community mostly on a charitable basis.
+3,200 meals were donated over 2 weeks
6 Chefs donated their recipes from Palestine, Jordan, USA, and UK
71% of the meals were offered to hospital staff, 29% to patients and their companions
Beirut Response Initiative
In response to the August 4 explosion, and in support of our brothers and sister in Lebanon, PACES launched the Beirut Response Initiative to support communities affected by the blast in August; whereby PACES will support initiatives focused on: rehabilitation of residential and commercial units, medical treatment of those in need, food insecurity, education, and job security.
To date, three partnerships have been established with: 
– Nusaned: a humanitarian, community-based and volunteer organization
– Sanad Hospice Lebanon: an non-profit organization that provides home hospice care 
– Matbakh El Kell: Souk El Tayeb's community kitchen, dedicated to cooking warm meals to those in need
PACES will continue to outreach communities affected by the blast, and new partnerships will be announced soon.
If you wish to learn more or support our upcoming projects, please email us at [email protected]